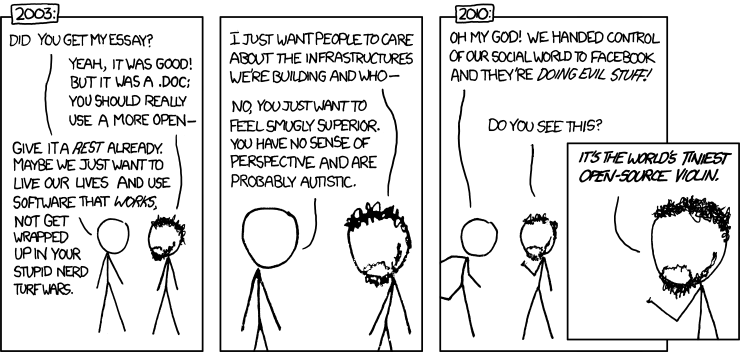 Unless you have been living under an Internet rock you already know that Google just released VP8 as an open source and open standard protocol. Almost instantly over night the video codec ecosystem has been turned on its head as Mozilla, Opera, YouTube and Flash, among others have already pledged support and even got tech previews up and running.
It is also no surprise that the MPEG-LA and x264 developers are hitting back. What is of concern is people take these bias sources as fact. The issue is the arguments used to scare us away from moving to a format that they do not control or develop, either hold very little water or apply just as much to using MPEG-LA technologies as it does to VP8 technologies, with the caveat that you have to pay for the privilege.
For instance the assertion that you can never be 100% sure something is patent free (or more precise you have the rights to use a technology without fear of litigation) is on the surface true. Our patent system is fatally flawed in that it is over broad and largely opaque. One can never be sure that some patent might surface or a jury might interpret a patent in a way that is more favourable to the patent holder. The issue with the argument is it applies just as much to H.264 as it does to both Theora and VP8. It is a straw man argument. The logic follows very closely to extortion (legalized because of the flawed patent system) – if you pay us money and use our services we will ignore you but if you go somewhere else we might start harassing you, so you are safe if you stay with us, if you catch my drift. What we do know for a fact is organizations such as Google, Mozilla, Opera and Adobe, all of who have very capable team of lawyers, have come to the conclusion that it is safe to ship the utilize the VP8 codec.
As for the argument that hardware manufactures already support H.264, we wouldn't get anywhere if we just accepted the status quo. If you look at the list of organizations supporting WebM you will see that they are not only heavy hitters, there is also a good number of them that are hardware vendors. I'm pretty sure we will see android devices coming out in the near future that support the format in the base system (and I'm sure we will see apps and plugins pop up almost instantly).
What about technical arguments that VP8 just isn't good enough yet? Those arguments came from an x264 developer. (side note – x264 is an Open Source implementation of the H.264 format. While the code itself is under an Open Source license the usage of such code is not open as it is governed by the MPEG-LA patent portfolio). Good enough is a pretty subjective thing. Google seems to think it is good enough for YouTube and as we have seen with the improvements in Theora which started out as a pretty low quality encoder, a little time and effort is all that is needed. Unlike Theora however, which is reaching the upper level of constraints imposed on it by the format, VP8 is at the low end of its potential. With a modern video codec design and more interest due to the open sourcing of VP8, we can expect a stead stream of improvements to the encoder for years to come.
In the end this will all come down to supported codecs. Right now H.264 has the lead but with Google's YouTube on board as well as all the major browsers which have rising market share, that might not be the case forever. MPEG-LA and H.264 developers will continue to sabre rattle in hopes that their FUD will scare off users instead of actually competing. Here is an idea, why not license H.264 in a more market friendly model? You know one, that doesn't threaten and extort users and developers? I'm not holding my breath for that one.
[read this post in:
ar
de
es
fr
it
ja
ko
pt
ru
zh-CN
]